The identity of the Snowstorm costume has been revealed on The Masked Singer.
The Fox singing competition, hosted by Nick Cannon, had only three remaining contestants going into the semifinal on Thursday, November 24; Snowstorm, Harp and the Lambs.
This was the first time in the show's history that there was all-female semi and, as the episode aired on Thanksgiving Day, there was plenty of festive fun sprinkled throughout the evening.
Each contestants took to the stage to perform individually, with the hopes of winning over the audience and panelists Robin Thicke, Ken Jeong, Jenny McCarthy-Wahlberg and Nicole Scherzinger to secure a spot in the grand finale.
After their respective performances, it was revealed that all three singers had to compete in one epic Battle Royale, each giving their own rendition of Kelly Clarkson's 2004 hit "Since U Been Gone."
Snowstorm was the act who received the least votes from The Masked Singer audience, meaning she was eliminated and forced to unmask, leaving the Lambs and Harp as the season eight finalists.
Newsweek has everything you need to know about the unveiling of Snowstorm on The Masked Singer.
Who Is Snowstorm on The Masked Singer?
After Snowstorm's clues pointed towards her being a comedian, the panelists all gave their predictions for who it could be behind the mask.
Thicke guessed Whitney Cummings, Scherzinger thought Iliza Shlesinger, and Jeong opted for Kristen Wiig.
In the end, though, McCarthy-Wahlberg's guess of TV host and comedian and FBoy Island host Nikki Glaser, 38, was correct.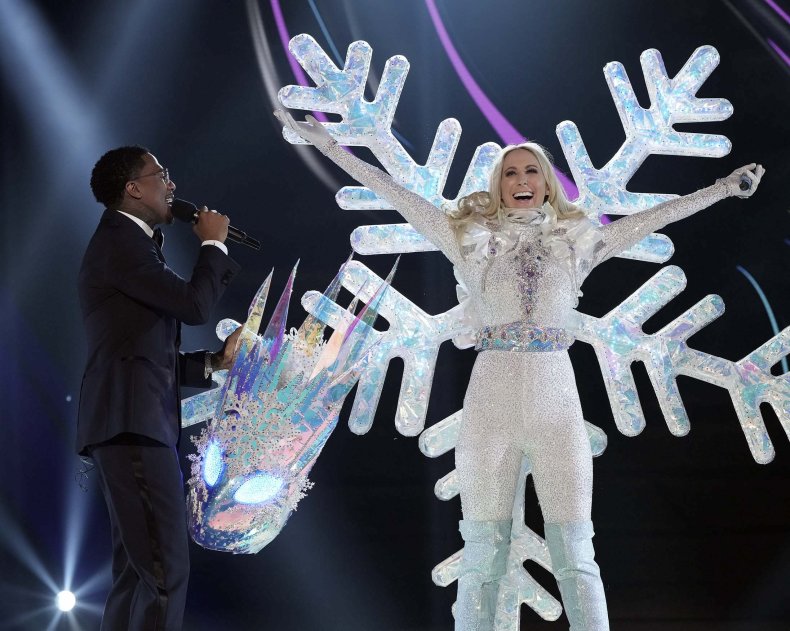 Fans had previously guessed that Glaser could be behind the Snowstorm mask after her clue that "things haven't always been pitch-perfect," hinted at the star's first comedy special Nikki Glaser's Perfect.
There was also a clip of Snowstorm sitting in front of a fire roasting chestnuts, which fans interpreted as a nod toward the various comedy roasts Glaser has taken part in.
Snowstorm paid tribute to the late Bob Saget in her final performance as balloons that spelled out "SQUIGGLY" were brought on stage.
Saget, who passed away in January 2022, competed as Squiggly Monster on season four of The Masked Singer in 2020.
Glaser, as Snowstorm, said on the show: "Squiggly Monster was a dear friend of mine who is no longer with us, and it feels weird to cry with this voice.
"But he was the reason I did this show because his experience was so rewarding, and I'm so glad he was able to have it before he passed away. My performances have been for him, whether he wanted it or not."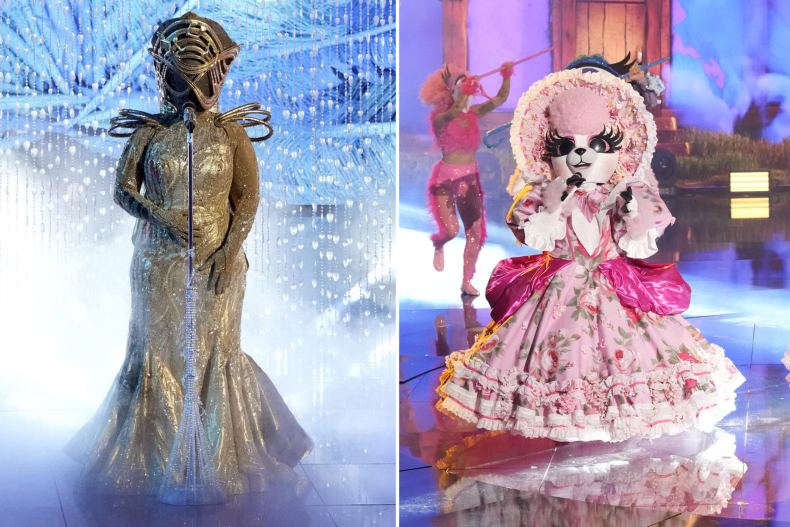 Who Is in The Masked Singer Finale?
Snowstorm's exit means that the finalists of The Masked Singer season eight are Harp and the Lambs.
Harp made her first appearance on the premiere of season eight back in September and during the episode, gave several clues, one of which being that she auditioned for "the biggest show in the world" as a teen, but she didn't "fit the mold."
The judges guessed Queen Latifah, Jordin Sparks, Fantasia Barrino and Jennifer Hudson, but fans at home believe it is actress Amber Riley, 36, who auditioned for American Idol in 2003 before she landed her role as Mercedes Jones on Glee.
The Lambs, meanwhile, made their debut during the Muppets-themed episode of The Masked Singer in October, where there were several clues dropped for the trio.
In their first clue package, the Lambs said that they "practically grew up with Miss Piggy," before adding "and each other."
Then, as they walked on stage for their first performance, a clue was given that they "can't let go," leaving fans convinced that the Lambs are singers Chynna Phillips, Carnie Wilson and Wendy Wilson, better known as "Hold On" hitmakers Wilson Phillips.
The Masked Singer grand finale will air Wednesday, November 30, at 8 p.m. ET on Fox.